BeLit's data-driven collaborative design process continues to revolutionize the residential building industry as it extends the power of virtual design and construction (VDC) to the estimating process. This approach provides tangible time and cost savings to our customers as we find efficiencies, identify problems, and implement solutions in the virtual construction phase rather than on the jobsite.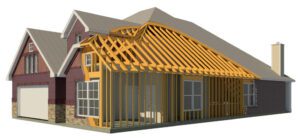 "When the construction estimation process is driven by the same BIM model used by the architects, engineers, and component designers on a project – the 'single source of truth,' so to speak – the result are take-offs our customers can feel really confident about," explains Scott Babin, BeLit's Director of Software Development. "Our team has been working on our VDC estimating process over the course of the last two years, and it's proven to be a game changer for builders in a very short amount of time."
Parker Dixon is BeLit's business development lead on the VDC initiative and says he can attest to the success of data-driven estimates in the field. "Our customers see us as their one-stop shop. Our streamlined, model-based approach ensures they have the right amount of the materials they need in the first shipment," he explains. "Cutting out the 'guessimations' is key. It means eliminating callbacks and happy trade partners in the field – and that means making the process much more efficient and cost-effective for everyone."
"This is the fruit of the collaborative design process we've been honing for several years," says Scott, who has been driving material supplies from design data since the 1990s. "When everyone starts with the same data, we eliminate waste, make better use of resources, and lower costs for all involved, including homeowners."
As a result of the company's strides in this area, BeLit is hiring a Virtual Design & Construction (VDC) Project Manager to support our model-based project management initiatives.