"It was exciting to be able to participate in a live event the caliber of BCMC after a year off due to COVID," remarks BeLit's owner and CEO Barry Dixon on his October trip to Omaha for the Building Component Manufacturers Conference (BCMC).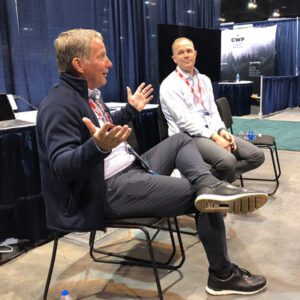 Dixon was among a group of industry leaders who spoke at the event, a trusted venue for structural building component manufacturers to learn about the latest ideas, products, and trends throughout their entire supply chain.
The breakout session, "Assessing Automation: Innovate Before You Automate," was well attended by other manufacturers interested in learning from Dixon's journey to opening one of the first fully automated roof truss plants in the United States using European technology. Dixon shared the stage with BJ Louws, a fellow component manufacturer, innovator, and traveling companion from Washington State.
"I believe it's important to share our experiences with each other whenever we have the chance," says Dixon, "especially when it comes to topics as important – and complex – as automation. We want more people to come down this path with us so we can be more effective in advancing the construction industry as a whole."
Dixon has been involved with BCMC and its host organization, the Structural Building Components Association (SBCA), since the mid-1990's. In addition to serving on SBCA's board of directors for 25+ years in a variety of capacities, including a term as president in 2007, he has instilled his passion for industry leadership in others throughout the BeLit organization.
"When it comes to the ultimate success of our industry as a whole, sometimes being teammates is more important than being competitors," says Mike Kozlowski, president of Apex, who has served as the BCMC Committee Co-Chair for the past two years, the culmination of more than 20 years of involvement with the event as a speaker, moderator, and committee member. He is also involved in SBCA's E&T and Emerging Leaders Committees and has contributed to several articles, technical documents, and other presentations.
"From design and engineering to manufacturing and installation, we believe the BeLit family of companies can revolutionize the building industry with our data-driven collaborative design process," explains Kozlowski. "BCMC is at the intersection of technology and design. With the right input and leadership, that intersection can result in standardization, optimization, and efficiency.  All of these are required to affect housing attainability in a positive way for all, which is one of our core goals as a corporation."
In addition to Dixon and Kozlowski, Apex's Dan Morris, True House's Jim Finkenhoefer and BeLit's Kevin Witt have also been involved in BCMC and SBCA leadership and industry work over the years.
"We believe in growing leaders," says Kozlowski. "While we love BCMC, other industry groups are also instrumental in housing industry, such as NAHB, Housing Innovation Alliance, ASCE, and building official groups. Involvement in these organizations provides opportunities not only to grow professionally but to advance the industry as well."